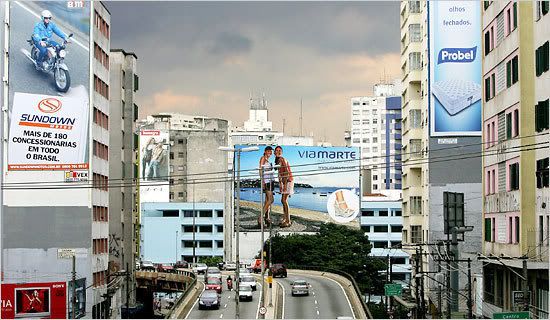 I was listening to
On The Media
this week and they ran a story about how Sao Paulo had decided to take their city ad free as of the new year. According to the
The International Herald Tribune
, the ban includes not just billboards, neon signs, and electric panels, but also advertisements on buses and taxis. Even some store signage that is deemed to be overly large for the building would have to be replaced. It is certainly a radical step, but I am curious as to its likely effect.
I have to admit that initially I thought this was a brilliant idea. Anything that helps to clean up our urban environment has to be a worthwhile cause, right? However after further discussion with
Alex
we quickly realized this kind of ban would undoubtedly come with some major costs. First there is the fact that it would likely hurt small businesses more than anything else, especially ones that target a very localized market. There really isn't a realistic replacement to putting up a big sign saying come on in.
Then there is the fact that some signs convey worthwhile information about upcoming events or entertainment, occasionally advertising can even crosses the line into art. This kind of across the board ban might just be a bit too much like throwing out the baby while draining the bathwater into our sink and other assorted household appliances. Alex pointed out that in this event we'd see our private public areas such as malls and grocery stores become advertising meccas.
While there are a few billboards around the city I wouldn't mind seeing removed, not to mention the giant 30 foot tall Johnny Depp that now glowers down at me every time I leave the office, I don't think Seattle is quite at the stage where a ban like this would be prudent. It is exciting to hear about new ideas like this though, and I hope we keep at it working to improve the quality of the urban environment.
Here are some
pictures taken of the removed signs
as the ban begins to be enforced. According to the On The Media story the city and its businesses are beginning to adapt to their new situation. Apparently businesses have taken to painting their stores in very distinctive ways to help residents identify them from afar. I definitely want to go to Brazil to see how this all works itself out.