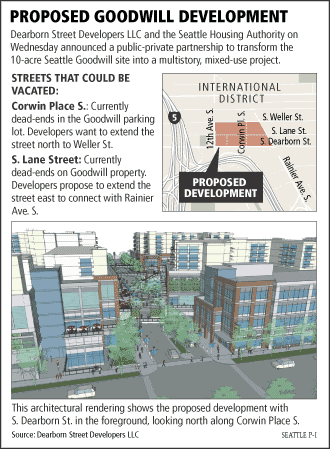 Well I must say it has been interesting to watch events surrounding the Goodwill project on Dearborn Street. Basically, Goodwill has agreed to trade their property to the Dearborn Street Developers in exchange for getting a brand new store and a training facility in their new development. The plan is for a huge Redmond Town Center type mixed use project with over 500 apartments (200 of which would be subsidized low income housing) and 600,000 square feet of retail. The project is dense without huge parking lots and seems to be a good example of infill development.
However there has been significant local opposition lead by the
Dearborn Street Coalition for a Livable Neighborhood
. They are planning a rally on April 21st to show their opposition to the current plan. According to their poster they want to see "a project that better fits the character and scale of the neighborhood, the preservation of Little Saigon, less automobile traffic, opportunities for small, local business, affordable housing and quality jobs, environmental sustainability."
All in all they seem like reasonable requests. Since the city would like to see this dispute resolved, they hired a facilitator three months ago, however no progress towards an agreement has been made. The developers agreed to double the amount of affordable housing (to the current 200 units) and set aside a fund of $1 million to help subsidize rents for small and local businesses.
Given the lack of compromise on the part of the community group, this is all looking less and less like citizen holding out for quality options and more and more like NIMBYism. Living in an urban environment you have to expect growth of our neighborhoods and increased density with all the problems that brings. Our city has made a commitment to environmentally sustainable development, and we should expect more large scale projects like this.
I for one feel this is a great of example of
relatively
responsible development.
Here is a 3d tour of the new center:
articles:
seattle pi
seattle times
psbj