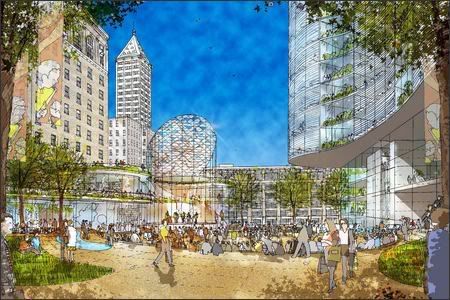 I just read about the new building being planned for the vacant block between 3rd and 4th Ave at Cherry St, yup big surprise, yet another tower of exclusive luxury condo units where the cheapest will go for over half a million dollars. Other than the fact that the project will fill in an ugly hole in the ground, nothing too exciting about it. But, then I read about the rest of the project.
The luxury condos would be in a thin tall tower on the north edge of the property, and the rest of block will be dedicated to a public plaza and retail. The entire property except for the condo tower would be transferred to the city with rents on the retail helping to pay for maintaining the plaza.
According to the
Seattle PI
, "the developer would own the garage and tower, and the city would own the plaza and retail space. At its option, the city could form a non-profit organization to own or operate the plaza. The plaza will feature a stage, sound system and sliding glass doors for shows and art exhibits. Indoor gathering places will let people linger even if it's raining. The entire project is set for completion in late 2010."
Not too bad sounding when it comes right down too it. I am usually one to be easily talked into supporting more residential in our downtown neighborhoods, but adding in sorely needed public space definitely makes this project appealing. Especially if the state is successful in pressuring us to rebuild the viaduct and we lose the chance to reconnect our city with the water.
According to the
Seattle Times
this would also be a green project. "The buildings would partially depend on solar power, wind turbines and recycled rain water, and be built to the highest sustainable standards from the U.S. Green Building Council, developers said. There will be a bus and light-rail tunnel station under the plaza, and the developers will build underground parking."
Altogether it sounds like the city council has finally got something right when it comes to developing downtown. Hopefully, this project is really all its hyped up to be and will actually contribute to the community.
More pictures are available on the Triad's less than appealingly designed
website
.